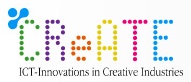 Creating a Joint Research Agenda for promoting ICT-based innovations in Creative Industries aims to promote the innovation potential of the creative industries and to provide strategic guidance to all regions.
The Creative Industries are widely regarded as a future market with a strong economic impact in Europe. Especially on the regional level, this sector still offers a large potential for growth. A crucial driving force for this development are the ICT technologies. Using innovative IT solutions in growing areas of the creative sector – such as advertising, digital media, gaming and interactive design – opens up manifold competitive advantages for research, development and business.
CReATE therefore aims to link European players from research, business and the public sector and to develop a joint research agenda.
With a special focus on small- and medium-sized companies the CReATE project consortium has been developing strategies to enhance the innovative capabilities of the  creative sector and to improve cooperation on the regional and European level.
Among CReATE main objectives:
1)    Identifying fields for research for promoting Creative Industries' competitiveness for the development of a cross-regional joint research agenda, setting priorities for research in the field of ICT-innovation pertaining to the Creative Industries and promoting cluster development in general.
2)   Supporting strategic collaboration of innovative Creative Industry clusters in Europe, thanks to the development of a tool-kit and of a training workshop concept, aimed to involve and train SMEs, research and public Stakeholders.
3)   Support for SMEs in research and technology transfer, through the promotion of cross-regional cooperations in order to exchange and boost specialist skills and knowledge.
4)    Setting up a pan-European platform to connect the Creative Industries with IT experts and research institutions  to promote synergies between regional, national, EU & research policies and to reach the critical mass to acquire international visibility.