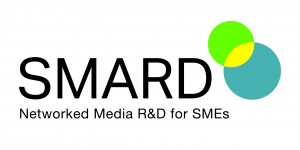 In September 2011, CSP is starting a new European project titled "SMARD – European Support Framework on networked Media R&D for SMEs", funded under the FP7 call ICT-2011.1.5.
SMARD has a special focus on SMEs in the Creative Industry sector as an application sector for advanced digital media technologies and platforms. The project aims to develop strategies for a future European support framework for  Networked Media R&D that considers SME needs and requirements as well as technology transfer activities. Especially the commercialization phase, as a vital part for the exploitation of research results will have a certain focus.
The SMARD Consortium is led by MFG Baden-Württemberg and comprises European partners from Salzburg Region (Salzburg Research), Flanders (Interdisciplinary Institute for Broadband Technology (IBBT) and Piemonte (CSP innovazione nelle ICT) and the project will last 18 months.
CSP will host the SMARD kickoff on September 26th and 27th and SMARD will be launched in Torino during the NEM Summit (http://nem-summit.eu), the annual event of the EU Networked and Electronic Media Technology Platform (http://www.nem-initiative.org).