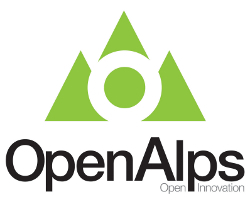 The OpenAlps project is looking for innovative SMEs from the Alpine Space, belonging to all business sectors, which have adopted Open innovation Methods in their innovation process when developing a specific project or product.
Apply until 24th May to be part of the OpenAlps MidTerm Conference in Lyon on June the 26th, where you can present your company and raise your visibility at international level.  The OpenAlps Consortium will cover the travel costs of the winners to be awarded during the Award Ceremony which is part of the MidTerm Conference. On their request, the winners can also benefit from a personalized meeting with innovation actors from the Rhône-Alpes region to establish new business cooperations.
The 3 winners will be selected by international experts based on the following criteria:
• Open Innovation approach/method adopted
• Market Potential
• Level  of cooperation with external players (e.g Research Centers, SMEs, individuals, communities)
• Co-Benefit for the players involved
• Transnational approach (of the players involved)
Fill in the online application form.
Any questions? Please address the contact point:
Valentina Grillea, MFG Baden-Württemberg mbH,
grillea@mfg.de, 49(0)711 90715336
Download the OpenAlps Award flyer and the OpenAlps Award Press Release.
Further information at the OpenAlps project website.