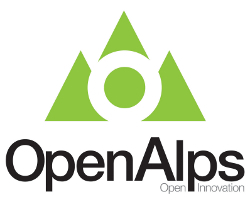 A training day, as part of the activities of OpenAlps EU project, is held in Torino, Italy, in CSP headquarters. The training day is specifically addressed to public officers and policy makers, cluster managers, internationalisation bureau and stakeholders active in innovation and development for SME's.
The agenda is structured in three parts: a first theoretical introduction, a session focusing on case studies and best practices and a final interactive training session where participants can apply the informations acquired during the seminar.
The main goal is to spread the open innovation approach, focusing on how it can increase to competitiveness and lead to new problem solving approaches.
OpenAlps is cofunded by the EU Alpine Space Programme.  The consortium gathers 9 partners from 5 EU countries, with the aim of promoting the Open Innovation paradigm with SME in the Alpine area.