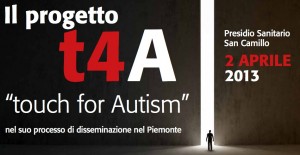 The sixth annual World Autism Awareness Day is April the 2nd, 2013. Every year, autism organizations around the world celebrate the day with initiatives and awareness-raising events.
In Piemonte, one of the initiatives is a workshop in Torino about the project T4A – touch4autism, developed by CSP in cooperation with local non-profit organisations dealing with autism (Fondazione Asphi and Centro C.A.S.A Mondovì).
T4A, project active for several years, has developed a web-based system to manage, record and map the training progress of patients with autism, through exercises and activities on multitouch surfaces.
Download the workshop agenda [in Italian].