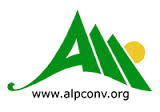 The Digital Cocktail, part of the Alpine Spring Festival, is taking place in EURAC, Bolzano (Italy), on March the 8th. It is a social way to exchange competences not only on local basis. CSP takes part to the event with a distance-presentation on its Living Labs methodology approach to innovation projects. Topics under discussion include Internet of Things, broadband, digital divide, distance learning, wireless sensor networks, as part of projects like Astronomy On The Net, Orco and Soana Valley, or the wireless sensor network built-up on the 2850 altitude of Ciardoney glacier.
The Alpine Convention is an international treaty for protection and promotion of the sustainable development of a cross-border mountainous region.
Details at the event page.